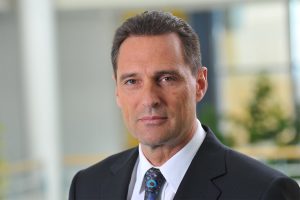 Peter Frankhauser, Thomas Cook Chief Executive
Thomas Cook fat cat bosses are to be scrutinised after taking £20 million in bonuses from the collapsed holiday company.
Despite long running fears about the financial frailty of Britain's oldest travel firm, executives took tens of millions of pounds over the last five years.
Business Secretary Andrea Leadsom has called for an immediate investigation into the handsome pay-outs.
It's said chief executive Peter Fankhauser has earned £8.3million since 2014.
Ms Leadsom has asked the Insolvency Service to "fast track" its investigation.
Her instructions includes looking at the role played by directors in the company's liquidation.
Senior executives at Thomas Cook have been accused of mismanagement over several years, beginning in 2012 when a mass restructuring left it £1.6 billion in debt.
Thomas Cook returned to profitability in 2015.
Since then bosses reaped in the rewards with large pay-outs.
Finance officers Bill Scott and Michael Healy took £7 million and chairman Frank Meysman received £1.6 million.
Former chief executive Harriet Green was awarded a share bonus worth £5.6 million in 2015, but a third of it was donated to charity.
During her two-year at the helm the firm axed 2,500 jobs and closed 400 shops to save money.