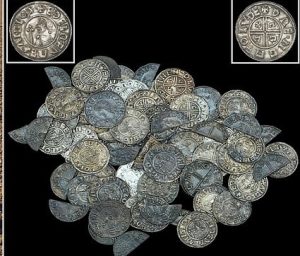 A hoard of silver coins worth £50,000 have been unearthed on farmland by a metal detectorist.
Don Crawley, 50, was scouring a field in Suffolk when he discovered the 99 coins, including pennies and halfpennies.
Experts date the coins to 999AD and the reign of Anglo-Saxon ruler King Ethelred II.
It's thought they might have been hidden as the owner feared the dawn of a new millennium.
Mr Crawley, a builder and father-of-three, said:
"It was my first visit to this farmer's land in Suffolk.
"After walking up an incline in the field, my Deus detector gave off a strong signal and within a short space of time I had recovered 93 coins.
"I was pretty chuffed when I found the coins to say the least.
"I was just beaming from ear to ear afterwards."
British Museum experts confirmed their authenticity and gave them back to him as "finders keepers".
London auctioneers Dix Noonan Webb, estimate they could be worth £50,000.