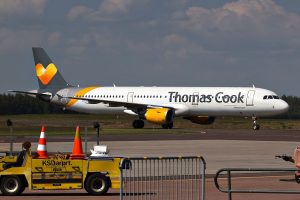 Thomas Cook, Britain's oldest travel agent, is on the verge of collapse.
The travel company is in the final throes of securing funding to prevent its demise.
It's holding emergency talks to sell off its Nordic airline and shops.
Unless a deal can be struck quickly more than 20,000 workers worldwide face losing their jobs.
Thomas Cook – started in 1872 – has 560 travel agents, all of which could go.
Meanwhile, it has more than 150,000 Britons already abroad.
If anything, the situation would worsen if they are stranded.
Thomas Cook said it was "focused on completing" the deal.
It's talking to banks, bondholders and international investment company Fosun to try to save the day.
The Thomas Cook statement said:
"The company notes the recent media speculation regarding its proposed recapitalisation.
"Discussions to agree final terms on the recapitalisation and reorganisation of the Company are continuing between the Company and a range of stakeholders, including its largest shareholder, Fosun Tourism Group and its affiliates ("Fosun"), the Company's core lending banks and a majority of the Company's 2022 and 2023 senior noteholders.
"These discussions include a recent request for a seasonal standby facility of £200 million, on top of the previously announced £900 million injection of new capital.
"The recapitalisation is expected to result in existing shareholders' interests being significantly diluted, with significant risk of no recovery."
Despite the uncertainty Thomas Cook continues to take bookings and run its flight schedule.