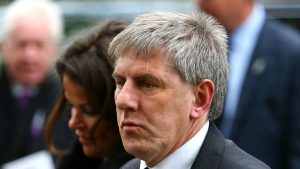 Former England striker Peter Beardsley has been banned from football for 32 weeks after using racist and abusive language to young players.
Beardsley was found guilty by the sport's governing body The Football Association.
It was said he told black players "you should be used to that" during a team-building exercise at Go Ape.
Also, he called a black player a monkey during a game of head tennis.
He denied the allegations.
Beardsley,58, was working as a coach for Newcastle United's U23s.
An FA Statement said:
"The FA alleged that Mr Beardsley used abusive and/or insulting words, which were contrary to FA Rule E3(1) and constituted an 'Aggravated Breach' under FA Rule E3(2) due to reference of ethnic origin and/or colour and/or race and/or nationality, while employed as a coach of the club's Under-23s team.
"All three breaches of FA Rule E3 were denied but subsequently found proven based upon the results and findings of Newcastle United FC's disciplinary proceedings."
Beardsley is banned from all football activities until April 29th, 2020.
He played for England 59 times and even wore the captain's armband.
He was also played for Liverpool.
He was awarded an MBE and inducted into the English Football Hall of Fame in 2007.