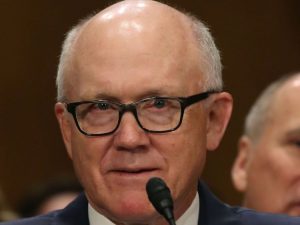 Woody Johnson US Ambassador to the UK
The US ambassador to Britain has strongly criticised Luxembourg's Prime Minister and his treatment of Boris Johnson.
Mr Johnson pulled out of a street press conference because of nearby raucous anti-Brexit protestors.
He feared his comments would be drowned out by the rowdy crowd.
In turn, Luxembourg's PM Xavier Bettel played to the cameras and theatrically addressed the empty podium where Mr Johnson was due to stand.
In a blistering attack on Mr Bettel, ambassador Woody Johnson said the behaviour was a stark reminder of why the UK wants to leave the EU.
He added that Britain had "built the greatest empire", and, "had held off the Nazis".
He said: "They don't need a lecture from anybody on how to run their country… and that includes Brussels.
"We stand with the people of the UK and we always will."
The ambassador praised Mr Johnson's handling of the situation, insisting that "he knew he was walking into a trap".
He said: "I thought the people in Luxembourg accomplished something that maybe even Boris couldn't accomplish – show this is not where (the British) want to be, over there, when they treat us like that – your Prime Minister."
Mr Bettel's rudeness has also not gone down well in Brussels and Berlin.
Norbert Rottgen, a key ally of German Chancellor Angela Merkel, said:
"Xavier Bettel's speech did not serve the European cause.
"His public venting ignored a deal is still in everyone's interest.
"Even without a deal there will be a post-Brexit life, which means that right now everyone needs to behave in a way that avoids animosity."
Mr Johnson told the Conservative Foreign Council that the Trump administration believes Britain is on "the cusp of a golden era".