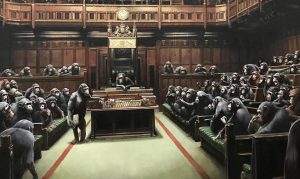 A scornful view of Parliament by artist Banksy is to be auction.
The picture depicts a UK Commons chamber packed with chimpanzees.
"Devolved Parliament "was painted in 2009 – long before the world of Brexit.
Alex Branczik, Sotheby's European head of contemporary art said:
"Regardless of where you sit in the Brexit debate, there's no doubt that this work is more pertinent now than it has ever been, capturing unprecedented levels of political chaos and confirming Banksy as the satirical polemicist of our time."
The picture goes on display in London later this month at Sotheby's auction house, less than a mile from the House of Commons.
The work is nearly four metres long, the largest known canvas by Banksy.
It's estimated to fetch £1.5m-£2m – exceeding the record of £1.52m paid for "Keep it Spotless", a Damien Hirst spot painting on which Banksy stencilled a maid cleaning.
Banksy originally painted "Devolved Parliament" for an exhibition in his hometown Bristol in 2009.
The show attracted more than 300,000 visitors and became one of the top ten most visited exhibitions in the world that year.
It was on display again to mark Britain's original Brexit date of March 31st.
At the time, Banksy wrote on Instagram: "I made this 10 years ago.
"Bristol museum have just put it back on display to mark Brexit day.
"Laugh now, but one day no one will be in charge".
"Devolved Parliament" goes on display on September 28th before its sale five days later.