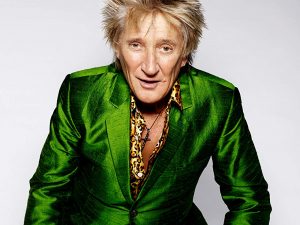 Rock legend Sir Rod Stewart has revealed he's won a two-year fight against prostate cancer.
He said he was diagnosed with the disease in February 2016 during a routine check-up.
He's now urging all men to be checked out before it's too late.
Sir Rod, 74, was at a Prostate Project fund raiser in Surrey.
He was joined by former Faces bandmates Kenney Jones and Ronnie Woods.
Sir Rod said: "Two years ago I was ­diagnosed with prostate cancer.
"No one knows this, but I thought this was about time I told everybody.
"I'm in the clear, now, simply because I caught it early.
"I have so many tests.
"So, guys, you've got to really go to the doctor."
Dad-of-eight Sir Rod told how he kept ­positive throughout his treatment for the disease, that kills 11,000 men every year.
Sir Rod was told he was in ­remission in July this year.
Prostate Project president Tim Sharp said: "Experience has shown what a big difference high profile celebrities can make when they 'come out' about their cancer.
"Stephen Fry and Bill Turnbull revealing their battles with prostate cancer are a good case in point.
"We have no doubt that Sir Rod's decision to announce his fight with the disease will be equally effective."