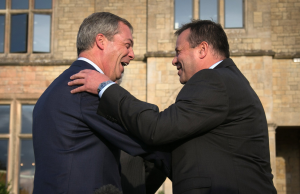 Nigel Farage and Aaron Banks
A Metropolitan Police investigation into Nigel Farage and Aaron Banks' Brexit campaign Leave.EU has been dropped.
Officers said some technical breaches of law were committed in its spending, but there is "insufficient evidence to justify any further criminal investigation".
Inquiries continue into the finances Vote Leave – which was run by Dominic Cummings and involved Boris Johnson and Michael Gove – and BeLeave.
A Metropolitan Police spokesman said: "On August 5 the Metropolitan Police submitted a file to the Crown Prosecution Service for Early Investigative Advice in relation to the Leave.EU investigation and this advice has now been received.
"It is clear that whilst some technical breaches of electoral law were committed by Leave.EU in respect of the spending return submitted for their campaign, there is insufficient evidence to justify any further criminal investigation.
"The investigation into the spending returns of Vote Leave and BeLeave remains ongoing."
Arron Banks, Chairman of Leave.EU, said:
"We have been informed by the Metropolitan Police that they will be taking no action as a result of the investigation referred by the Electoral commission into the Leave.EU campaign and Ms Liz Bilney.
"They have concluded that the Leave.EU campaign did not break the law during the 2016 referendum.
"We will be writing to the Prime Minister today demanding a public enquiry into the actions of the Electoral commission.
"I am today calling for the resignation of Damian Collins and the CEO of Electoral commission.
"The Electoral Commission have serious questions to answer about political bias and whether it is fit for purpose as a regulator. "