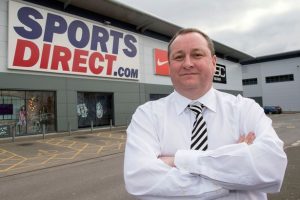 Discount retailer Sports Direct is on the point of asking the government to appoint an auditor after being spurned by the City.
Auditor Grant Thornton quit last month and Sports Direct is legally bound to find a new one.
The company has approached the "big four" – KPMG, PwC, EY, and Deloitte – to pitch for the position.
But none has taken up the offer.
Auditors see Sports Direct as a reputational risk as a client.
In July, its results were delayed for hours with no explanation.
The final publication revealed a surprise tax bill of £605m from Belgian authorities.
Grant Thornton was said to be surprised by the demand only hours before the accounts were to be published.
He resigned soon afterwards.
If Sports Direct can't find an auditor it will have to ask the Business Secretary Andrea Leadsom to appoint one.
That has to be done within a week of its AGM, held yesterday.
It's the first time a major UK-listed company has failed to appoint an auditor.
Sports Direct is owned by controversial billionaire Mike Ashley.
Russ Mould, investment director at stockbroker AJ Bell, said:
"This would really sting, given the additional damage to the firm's reputation and because Ashley hardly strikes you as someone who would relish surrendering control in this way."
And, retail analyst Richard Hyman said: "The failure to appoint an auditor shows that both Mike Ashley and Sports Direct's reputation precedes them.
"They're difficult, very unconventional and don't play by the rules, so many firms clearly think that it's not something they want to get involved in."