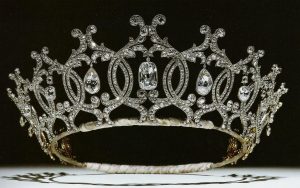 A £100,000 has been offered for information to recover a diamond tiara stolen from an art gallery.
The Portland Tiara was taken from the Welbeck Estate in Sherwood Forest last year.
It's thought that the thieves also stole a diamond brooch from the armoured glass display case.
They used special diamond cutting tools to break through the plate glass.
Six people – five men and a woman – were arrested in connection with the theft.
They have been released pending further investigations.
The boiler-suited thieves broke into the Portland Collection Gallery, also taking a diamond brooch as well as the tiara.
CCTV cameras caught the gang using power tools and metal bars to break their way into the gallery.
Sparks fly as they cut their way inside before fleeing in a silver Audi RS5 Quattro.
Nottinghamshire Police have released an image of the car, with the registration KY61 USJ.
Detective Inspector Gayle Hart said: "We're still determined to find the people responsible for this brazen theft, but we need the public's help.
"We're still pursuing a number of lines of inquiry, but we believe there are people out there who may have crucial information that could help with our investigation.
"We particularly want to hear from anyone who has any information about a silver Audi RS5 which is suspected to have been involved in this offence.'
"This vehicle was found abandoned and burnt out in Cross Lane, Blidworth, about half an hour after the incident.
"If you have any information about this vehicle, we'd urge you to please come forward and contact us as soon as possible. We'd also like to hear from any drivers who may have dash-cam footage of this vehicle."
Richard Edgcumbe, Curator of Jewellery at the Victoria and Albert Museum in London, said:
"The Portland Tiara is one of the great historic tiaras of Great Britain.
"Since its creation by Cartier in 1902, using diamonds from the historic collections of the Dukes of Portland, it has been recognised as a jewel of supreme importance, a superb design magnificently executed."
The 6th Duke of Portland commissioned Cartier to fabricate the Portland Tiara for his wife, Winifred.
She wore it to the 1902 coronation of King Edward VII.
A private appeal offering a £100,000 reward has been placed with the Art Loss Register.
https://www.youtube.com/watch?time_continue=14&v=2XubmYn-Ei8