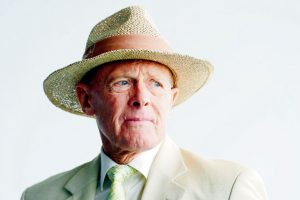 England cricket legend Geoff Boycott has been given a knighthood by former Prime Minister Theresa May.
Test Opener Boycott is a sporting hero of cricket loving Mrs May.
However, the honour to the no-nonsense, plain-speaking Yorkshireman sparked controversy.
Boycott was convicted in a French court more than 20 years ago for assaulting his then girlfriend Margaret Moore in a hotel.
Domestic abuse charities claimed the award sent a "dangerous message" to men.
But when asked about the conviction on the BBC Radio 4 Today programme Boycott smacked the question for six.
He told presenter Martha Kearney "I don't care a toss about criticism".
He added: "It's 25 years ago, love. In a French court.
"She tried to blackmail me for a million pounds.
"I said no, because in England if you pay any money at all we think 'hang on there must be something there'.
"I said I'm not paying anything – I'm not sure I've actually got a million at the time.
"It's a court case in France where you are guilty – which is one reason I don't vote to remain in Europe – you're guilty until you are proved innocent.
"That's totally the opposite to England and it is very difficult to prove your innocence on another country, another language.
"And most people in England don't believe it.
"I didn't do it. Move on.
"It's a cross I have to bear, right or wrong, good or bad.
"I have to live with it and I do, because I am clear in my mind – and I think most people in England are – that it is not true."
When pressed on the matter Boycott interrupted and said:
"I don't care a toss about her, love.
"It's 25 years ago, so you can take your political nature and do whatever you want with it.
"You want to talk to me about my knighthood, it's very nice of you to have me, but I couldn't give a toss."
Boycott has always denied assaulting Ms Moore.
He said her injuries were sustained in a fall.
In another interview he said:
"I'm thrilled to bits that it's for my cricket.
"Yes, I've done bits for charity but I'm glad it's for my cricket for my performances for Yorkshire and England.
'When I go to see the Queen – I hope it's the Queen, I like the Queen – I can take my wife, I've got a daughter I can take, and her husband.
"You can call me what you want – the bowlers did when I was batting, so I'm not bothered.
"It's recognition. Cricket is about talent but it's also about character."
Boycott played 108 Tests from 1964 to 1982 and scored 8,114 runs at 47.72 – the first player to reach 8,000 in Tests for England.
He averaged he averaged 56,83 for his first-class career with 151 centuries and more than 48,000 runs in all.