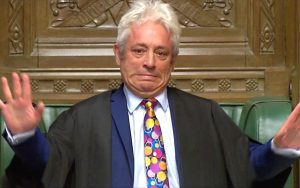 Angry Tory MPs waved goodbye to controversial speaker John Bercow – and vowed to stop his elevation to the Lords.
It's said "pompous" Mr Bercow jumped before he was pushed out by Conservatives looking to sack him at the next general election.
They hold him responsible for the on-going Brexit chaos that's seen parliament prorogued.
Despite the tearful resignation speech by the speaker, it's said Prime Minister Boris Johnson will exact his revenge and deny him a seat in the Lords.
He'll be the first speaker in 230 not to be afforded the honour.
It's believed Mr Johnson will tear-up convention, just as Mr Bercow ignored parliamentary precedent when handling Brexit in the house.
A government source said:
"No one in this Government will be rushing to give Bercow a peerage.
"He likes to think of himself as a reforming Speaker, yet he's been dogged by scandals and given up any pretence he is impartial."