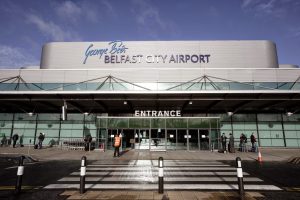 Passengers have voted Belfast International as the UK's worst airport.
They blamed long queues, crowds and limited shopping options for putting the airport top of their bottom list.
An annual survey by consumer group Which? looked at 30 airports and major terminals.
Top flight – for the third year running – is Doncaster Sheffield.
It picked up five stars for its ease of queuing at security and passport control.
Belfast International, Northern Ireland's busiest airport, received a customer approval rating of just 42 per cent.
It had just one star in the categories of seating, staffing and queuing at security.
Travellers described the airport as "tired and shabby", others said it had a "poor layout" and claimed the airport was "understaffed".
A Belfast International spokeswoman said the airport had recently undergone a £1 million facelift on its security.
She added the airport had seen "significant operational challenges".
Luckily, Luton gave up its regular bottom spot – three years in a row – to Belfast.
This time it came second from bottom.
Naomi Leach, of Which? Travel, said:
"Smaller airports are generally outperforming their larger counterparts with seamless security checks and friendly staff making the biggest impression with flyers.
"So, if you have the luxury of choice when it comes to which airport you fly from, choose Doncaster Sheffield over Leeds Bradford, Southend over Luton, Edinburgh over Aberdeen and Belfast City over Belfast International for a smoother start to your trip."