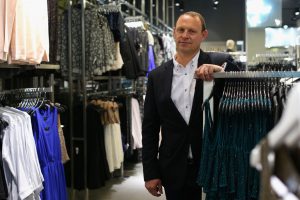 David Shepherd
The chief operating officer of Sir Philip Green's Topshop chain has quit.
David Shepherd, 55, left the Arcadia group, according the filings sent to Companies House.
Shepherd was a key ally to the currently beleaguered Sir Philip.
He started as a buyer for Topshop 25 years ago and worked his way up to run the menswear outfit.
He was appointed chief operating officer 2012.
Shepherd was loudly criticised when he suggested Topman's customers were "hooligans", buying a suit purely for court appearances.
He said the remark was taken out of context.
His leaving comes at a difficult time for Sir Philip, 67, who is fighting to overhaul his retail empire.
He's also facing assault charges in America.
To boost sales across Arcadia's brands – including Miss Selfridge, Wallis, Evans and Burton – prices have been cut by as much as 25%.