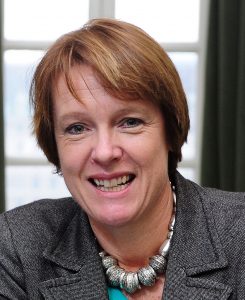 Tory MP Caroline Spelman will stand down at the next election after receiving death threats and abuse over Brexit.
Ms Spelman, 61, said she, her family and colleagues had witnessed a "fierce intensity of abuse".
Quite frankly, we've had enough", she said.
Ms Spelman, MP for Meriden, has served 22 years in Westminster.
She added: "Twenty-two years is a long time in politics but I have never experienced anything like the last few years.
"And actually, for me the last six months have been extremely difficult."
Ms Spelman said she wears a "panic button" around her neck following the intensity of anger from the public.
She said: "You know, it comes to something when you feel afraid to move around the place where you live.
"But you know, sadly, we know from the tragic death of Jo Cox it can happen."
"Myself, my family and my staff, have borne an enormous brunt of abuse and I think quite frankly we've had enough.
"The anonymity the internet affords allows people to say things which if they said it to your face or they wrote it down, would not be legal.
"If people ring up with threats to kill, or a string of abuse, who wants to start their Monday morning like that? It wears them down."
Ms Spelman is a former chairman of the Conservative Party.