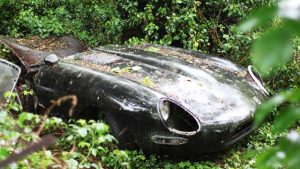 A rare Jaguar E-Type which lay in a field for nearly three decades has been fully restored.
The iconic 4.2 litre sports car was the tenth ever built by Jaguar.
It was found rusting in the shrubbery of an estate in Gloucestershire.
The right-hand-drive fixed head coupe had been seriously corroded by the elements.
All the body work had to be replaced, as did the electrics, dashboard, dials and the all-leather interior.
Most parts were sourced from other E-Type owners or handmade by the restorers.
Luckily, many engine parts were salvaged before its total re-build and upgrade to cope with modern driving.
The car was finished in Opalescent Silver Grey, and the body was polished for 60 hours.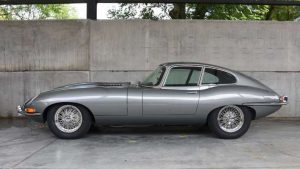 The car was restored by E-Type UK in Hadlow, Kent.
Founder Marcus Holland said:
"We are incredibly proud and privileged to have been given the opportunity to complete a full restoration of the tenth Jaguar E-Type Series 1 4.2 RHD FHC to come off the production line.
"This historic sports car certainly came with its own unique challenges, bringing out the best from our in-house team through the extent and quality of the work required.
"We have seen and completed a number of 'bush-find' restorations, but this must be one of the most significant E-Type UK has ever undertaken. "