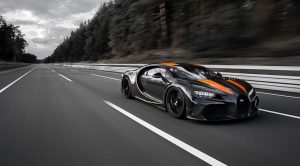 The Bugatti Chiron has broken the world production car speed record after smashing the 300-mph limit.
Former Le Mans winner Andy Wallace hit 304.773 mph driving on the VW test track in Germany.
However, the "production spec" Chiron had a few tweaks for the speed attempt.
Key was taking the standard 1479 bhp quad-turbocharged 8-litre W16 engine up to 1578 bhp.
Also, specially made Michelin tyres were designed to handle the enormous force at 300 mph plus.
At the top speed the wheels were turning 4100 times a minute.
British driver Wallace said the effect of the wheels spinning was a challenge at ultra-high speeds.
He said: "At 200mph you can barely feel it, but at 300mph it's absolutely enormous.
"It's felt mostly on the front wheels and therefore the steering, like a spinning top when it starts to move, wants to continue to move." 
After four days at the Ehra-Lessien VW track the Chiron had managed a peak speed of 299.8mph, tantalizingly close to the 300mph barrier.
But Wallace was struggling to go quicker.
Then, on the record-setting lap, he saw a peak of 304 mph on the car's GPS display so knew he had set a record.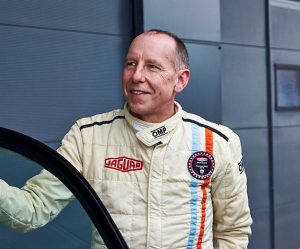 Wallace said: "It's pretty bloody cool.
"If somebody said to me even two years ago that I was going to go over 300mph I'd have thought they were out of their mind."
 Now, after cracking the 300-mph limit Bugatti says it will no longer pursue speed records.
Bugatti president Stefan Winkelmann said:
"We have shown several times that we built the fastest cars in the world. In future we will focus on other areas.
"Bugatti was the first to exceed 300mph – its name will go down in the history books and it will stay that way forever."