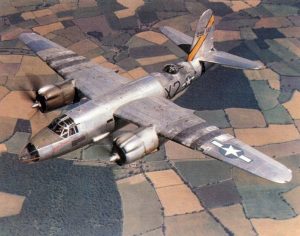 B-26 Marauder
 American servicemen are digging up a farmer's field in Essex to find the remains of a WWll airman whose plane crashed and exploded.
The B-26 Marauder bomber took off from RAF Stanstead Mountfitchet two days before D-Day.
The six-man crew's mission was to take out a German held bridge in France with a payload of two 2,000 lb bombs.
But the twin-engine plane crashed and burst into flames.
Four airmen managed to scramble to safety from the burning wreckage and a fifth died when the bombs exploded.
The sixth airman, however, was never found.
Now, military personnel from the Defence POW/MIA Accounting Agency are searching for his remains.
Sergeant First Class Peter Holderness said the agency's mission is to "find and retrieve our nation's fallen service members and account for as many as possible".
He confirmed that "possible osseous [bone] material" had been recovered at the site.
It is now being analysed at the agency's laboratory in Hawaii.
The exact location of the dig and the name of the missing airman have not been made public.
The agency said if the remains of the sixth airman are found and identified, his descendants will be notified.
The search in Essex is the agency's first in the UK.
There are 140 cases involving unaccounted-for Americans in the UK from the Second World War.
And, there are 82,000 unaccounted for US military personnel from all past conflicts worldwide.
Last year just 206 of them were identified.