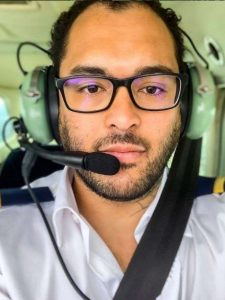 Mark Sylvester
A rookie pilot on his first lesson landed his Cessna plane after the instructor collapsed during mid-flight.
Mark Sylvester was just 60 minutes into his lesson when he called air traffic control to report the problem.
He radioed: "He's leaning over my shoulder, I'm trying to keep him up, but he keeps falling down."
The air traffic operator kept Mark calm and talked him through an emergency landing.
He asked: "Do you know how to operate the airplane?"
"This is my first lesson," Mark tells him.
"We're tracking where you are at the moment," the operator says.
"You're doing a really great job. I know this is really stressful. But you're going to do an amazing job and we're going to help you get down to the ground, OK?"
"Have you landed any aircraft before?" he asks.
"No, I haven't," Mr Sylvester responds.
"Well my flight instructor did say I was the best student he'd had."
Mark landed safely after nearly an hour.
His New Zealand-born instructor, Robert Mollard, is in a stable condition in hospital.
Chuck McElwee, owner and operator of Air Australia International, said:
"This could have gone way, way bad.
"But everything worked out right, and it worked right, mostly because of the co-operation of the tower, the fact that he was a student — that he was dedicated and he knew what he was doing and he pulled it off — and that my flight instructor went up to the tower and they all worked together."
Mark's wife and three children watched from the ground at the airport in Jandakot, Western Australia.
They were in the tower as the drama unfolded.
Mr McElwee said: "She was a rock, let me tell you, she held it together all the way along the line,"
"The only thing that we worried about was after … he was on an adrenaline high.
"We told his wife not to let him drive … until he had calmed down."