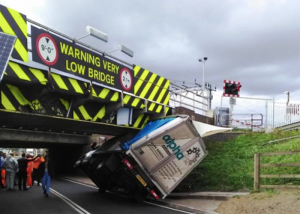 Stuntney Bridge
Lorry drivers following sat navs are crashing their vehicles into low bridges and houses in England's market towns and villages.
One bridge has been hit more than 120 times, and an historic cottage has been struck 11 times.
Now the Local Government Association (LGA) is calling for government action to stop the daily driving blunders.
The LGA wants the power to fine motorists who flout weight-restriction limits.
A spokesman added: "Giving councils the power to enforce moving traffic offences… would help them act on community concerns, improve road safety, tackle congestion and reduce pollution."
The LGA also wants lorry drivers to be told to use dedicated HGV sat navs that include information on bridge heights and narrow roads and guide motorists along suitable routes.
Councils throughout England say "lost lorries" are causing "havoc and mayhem" in towns and villages in England.
Stuntney Bridge in Ely, Cambridgeshire, has been hit more than 120 times by lorries and large vehicles .
Despite warning signs, drivers following sat nav instructions meant for cars still try to negotiate the bridge.