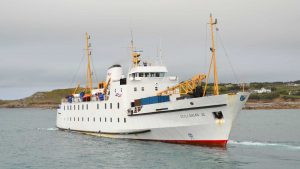 More than a thousand tourists are stuck on the Scilly Isles after the only passenger ferry broke down.
The Scillonian lll was forced to return to the mainland last Wednesday after two engines failed.
The ferry can carry 485 passengers on its daily trip between Penzance and St. Mary's.
It is the only way for people to visits the islands some 28 miles off Land's End.
There are still scheduled flights to the isles, but the planes can only carry up to 17 passengers a time.
And, with more holidaymakers arriving than leaving, it's adding to the swelling numbers, putting pressure on hotels.
People have accused the ferry operator – Isles of Scilly Travel – of not keeping them updated with the worsening situation.
Barbara Hunt, 54, and her family was due to leave last Thursday.
The enforced stay has cost her an extra £1,500.
Mrs Hunt said: "This is a crisis and it's stupendously irresponsible that new people are being brought in when more than 1,000 people can't get off these islands.
"I'm having to pay out an extortionate amount of money. There is a lot of anger and anxiety."
One woman expressed that anger on Twitter.
She wrote: "We have to check out by 10am on St Mary's. We have three small children and I'm pregnant so where do you suggest we go?"
Another wrote: "After trying to contact your offices over 30 times this morning we have not received any information regarding our return to Penzance.
We are travelling with two small children with three older children waiting at home."
A spokesman for Isles of Scilly Travel said it was helping stranded people with their enquiries and arranging alternative travel.
He added that about 700 extra passengers and "numerous dogs" who had been due to sail had been taken off by plane.
The firm hopes the ferry will return to service today (Sunday).