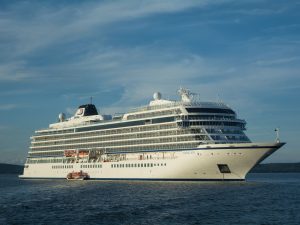 The ultimate round the world trip has set sail from London this weekend.
The 245-day cruise will cover six continents, 59 countries and 113 ports.
The Viking Sun's eight months' voyage hopes to set a Guinness world record for the longest continuous passenger cruise.
Prices for the once-in-a-lifetime trip start at £66,900.
Those who want the ultimate experience have coughed up £194,000 for a ticket.
Viking chairman Torstein Hagen said:
"It is the most extensive itinerary available in the industry, nearly double the length of our previous world cruise itineraries."
After setting off from Greenwich, the Viking Sun aptly heads to Scandinavia.
Next stop is the Caribbean and South America, before calling on the remote tropical islands of the South Pacific.
She continues her journey along the coast of Australia and through Asia.
The liner then heads to the Mediterranean and Europe and arrives back in London in May 2020.
A total of 54 people – including four from the UK – have signed up for the full 245 days.
The others will be on board for half the itinerary, with a changeover of passengers in Los Angeles.