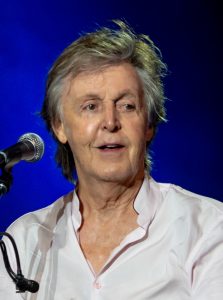 Paul McCartney's grandson was robbed at knifepoint in London, the former Beatle reveals.
Sir Paul said his grandson had his phone stolen.
He said the crime brought back memories of his own Liverpool childhood.
The attack comes at the height of a knife crime epidemic in London.
In 2019 alone 84 people have been stabbed to death on the capital's streets.
Sir Paul, 77, has eight grandchildren aged between seven and 20.
He told the Times: "One of my grandkids, one of my older grandkids, was mugged and got his phone taken.
"That takes me back to my childhood when I was mugged in Liverpool, so I am able to talk to him.
"He was saying the worst thing was that he should have just thumped the guy; he came back and felt a coward.
"I said: 'No, no, no, no! The guy had a knife and you don't know, the guy might be able to use that knife'.
"So, it is scary these days."
Remembering being mugged himself in Liverpool Sir Paul said:
"When I was a kid, it was four guys and they nicked my watch. I was of a similar age.
"I just happened to be on my own, bigger kids came along and it was the same feeling.
"It was the worst thing,"
The unabated spate of knifings prompted Former Oasis frontman Noel Gallagher to move his family away from London after a man was stabbed on his street.
He said the city was "too dangerous" to raise a family.
Noel, 52, said: "We didn't want the kids growing up in London.
"We've had two stabbings outside our house in the last while.
"I live, as you can imagine, in quite an affluent area.
"At one end of the street is one housing estate and the other end is another housing estate, and they are currently at war."