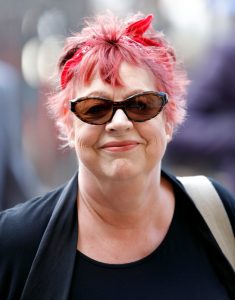 Comedienne Jo Brand's joke about throwing battery acid at politicians was "inappropriate" the BBC has ruled.
The comic angered people with her quip during the Radio 4 show Heresy.
Her "joke" came as politicians were being covered in milkshakes thrown by protestors.
She said: "'I'm thinking why bother with a milkshake when you could get some battery acid – I'm not going to do it, it's purely a fantasy. But I think milkshakes are pathetic."
Regulator Ofcom received 65 complaints about the June 13th comment.
It prompted Brexit Party leader Nigel Farage – a recent victim of a milkshake attack – to accuse Ms Brand of "inciting violence".
He tweeted: "I am sick to death of overpaid, left-wing, so-called comedians on the BBC who think their view is morally superior."
The BBC Executive Complaints Unit (ECU) said it did not uphold the complaints on incitement of violence.
But it did recognise that the comment went beyond what was appropriate for the show.
Ms Brand apologised for the joke at the time.