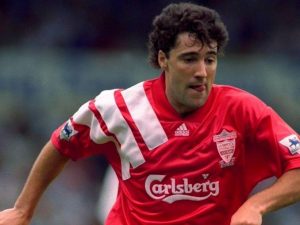 Former Premier League striker Dean Saunders has been jailed for refusing to give a breath test after a day at the races.
The Liverpool star and Welsh international was stopped in his £70,000 Audi A8 near Chester.
He said he'd drunk two pints at Chester Races.
But police body cameras showed him to slurring his words and propping himself against his car.
He was arrested after refusing the test.
He refused another breath test at the police station.
Saunders, 55, said his asthma prevented him giving a breath sample, but he failed to tell officers at the time.
Jailing him for 10 weeks, the judge said father-of-three Saunders considered himself "above the law" and had shown "no real remorse".
He was also banned from driving for 30 months and ordered to pay court costs of £620.
His solicitor Conor Johnstone said Saunders would be appealing the length of sentence.
The ex-footballer had changed his plea to guilty at the last moment.
At a previous hearing he denied the charges.
District Judge Nicholas Sanders, sitting at Chester Magistrates' Court, told him:
"Throughout these proceedings you have shown yourself to be arrogant, thinking you are someone whose previous and current role in the public eye entitles you to be above the law.
"In fact, the opposite is true – someone in the public eye should expect a deterrent sentence when they flout the law.
"Your driving came to the attention of police officers. You very nearly caused a serious accident.
"They were seriously concerned you may cause an accident.
"You were stopped and failed to provide a breath specimen and continued with this obstructive and evasive conduct at the police station.
"I do not accept you were confused. You consistently refused to co-operate."
Saunders, of Whitegate, near Northwich, Chester, also played for Aston Villa and Derby County.
He was capped 75 times for Wales.