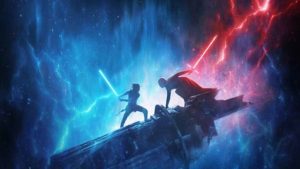 The first footage for Star Wars: The Rise Of Skywalker has been released.
The film, due for release in December, is the last instalment of the Star Wars sequel trilogy – following The Force Awakens and The Last Jedi.
It's thought to be the last film in the nine-part Skywalker saga.
The Rise of Skywalker has been co-written and directed by J.J. Abrams.
The film see the Resistance face the First Order once again.
Plus, the end of the long running conflict between the Jedi and the Sith.
The preview opens with the first Star Wars' heroes Luke Skywalker , Princess Leia and Han Solo.
The audience is reminded, through clips from The Empire Strikes Back and Return Of The Jedi, that this the story of a generation.
J.J. Abrams confirmed at the preview that the late Carrie Fisher, who played Princess Leia, will appear in the film.
He said: "The character of Leia is really, in a way, the heart of this story.
"We could not possibly tell the end of these nine films without Leia.
"We realized that we had footage from Episode VII, and we could use it in a new way."
Carrie died of a heart attack on December 27, 2016, four days after a medical emergency on a flight from London to Los Angeles