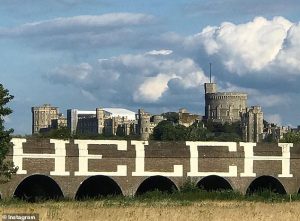 credit Instagram
The Queen is said to be "extremely upset" after a graffiti vandal spray-painted a 60ft tag on a railway viaduct near Windsor Castle.
The word "HELCH" sprawls across the brickwork and can be seen from Royal Windsor Way – a major road into the Berkshire town.
A royal source told The Sun: "'The Queen was extremely upset to hear that this view of Windsor Castle has been turned into such an eyesore
"Her aides have been asked to see what can be done to have this gratuitous vandalism cleaned up and the views across to Windsor Castle restored to their former beauty."
Richard Endacott, West Windsor Residents Association chairman said:
"I am sure the Queen will not be impressed, and it is essential that action is taken to restore a one fantastic view.
"We have 1.4 million tourists visiting Windsor Castle each this year.
"This should not be their first sighting of it and the sort of memory they take away of it.
'When the person who did it caught, he should have to pay for the cost of cleaning it up."
The HELCH tag can be seen in and around London. It first appeared in 2018.
It's been daubed on buildings, railway sidings, tube stations and motorway bridges.
A spokesman for Network Rail said:
"All graffiti removal comes at the taxpayers' expense.
"We only remove it when it is deemed offensive, or else the people who do it go back and just do it again.'