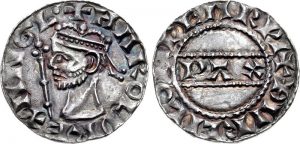 A major treasure trove of coins, buried nearly a 1,000 years ago, has been unearthed by a metal detecting couple.
They dug up the "once in a lifetime" £5 million find in a field in Somerset.
The hoard was made up of 2,571 silver coins, mainly King Harold II pennies from the end of Anglo-Saxon Britain.
Others are William 1st coins.
Many are in mint condition and could be worth up the £5000 each.
Harold was hit in the eye by an arrow at the Battle of Hasting in 1066 and William the Conqueror was crowned King.
Coins from Harold's brief eight months' reign are rare.
It's thought they were probably hidden for safekeeping by a wealthy person.
Adam Staples and his partner Lisa Grace, 42, from Derby, have given the coins to the British Museum in London to evaluate.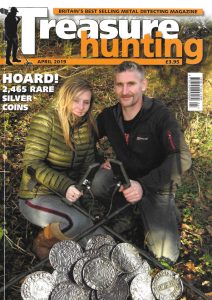 credit Treasure Hunting Magazine
The couple told Treasure Hunting Magazine that finding the hoard was "mind-blowing and amazing".
Adam and Lisa will become overnight millionaires, and the landowner will also receive 50% of the proceeds.
Coin expert Nigel Mills said:
"I am told the coins are absolutely stunning.
"Each coin will have the moneyers [makers] name on and the mint of where it was issued.
"In the case of the Harold II coins, some will be from moneyers that we have not seen before.
"Harold II coins are rarer than William coins and could be worth between £2,000 to £4,000 each.
"The William I coins will be between £1,000 and £1,500.
"This hoard could be worth between £3m and £5m."
A spokesman for the British Museum said:
"We can confirm that a large hoard of late Anglo-Saxon and Norman coins was discovered in January.
"It has been handed in to the British Museum as possible Treasure under the terms of the Treasure Act (1996).
"This appears to be an important discovery."