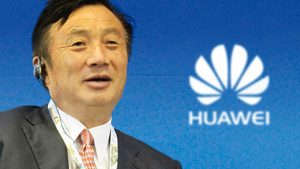 Ren Zhengfei, Huawei CEO
Chinese tech titan Huawei is facing a "life or death crisis" as the US government continues to apply trading pressure.
To ease concerns the company is bringing in more efficiencies; simplifying reporting lines and shifting key players to other roles if needed.
Washington has placed Huawei on an "entity list" that restricts American tech manufacturers selling them key parts.
However, Huawei spends billions of dollars yearly with US tech firms, a factor which last week helped see the restrictions be eased for another 90 days.
Ren Zhengfei, Huawei founder and CEO, told employees in a memo that the company was in a "battle".
He added: "Now that the company is at a life or death crisis, our first priority is to encourage all crew to make contributions, and the second is to choose and promote talents, to add 'new blood' to our system."
Ren said there will be "new blood" in the company in three to five years.
And, there are plans to introduce more efficiencies to the organisation.
These include a simplified reporting structure, cutting back surplus staff, losing repetitive jobs and shifting managers to other positions.
He also wants to ensure Huawei is paid by customers on time to avoid cash flow problems.
Huawei has been caught up in the trade war between the US and China.
President Donald Trump is convinced Huawei uses its technology to "spy" on countries, although Washington has failed to produce any evidence to back the claim.
Huawei vigorously denies the accusations.
Trump, however, blows hot and cold on Huawei – one minute he's offering to relax trading restrictions, and the other he refuses to deal with them.