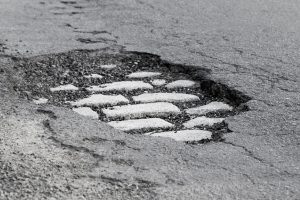 The combined depth of England's potholes is 15 time greater than the Grand Canyon.
The damaged roads measure up to a total of 17 miles deep.
Meanwhile, English local authorities are receiving a pothole complaint every 46 seconds.
Last year more than 700,000 holes and road defects in England were reported by motorists and cyclists.
The North-East had more than 100,000 complaints, closely followed by Yorkshire and Humber with 92,000.
Nearly £1 billion was spent repairing potholes and damaged roads last year.
It was a similar sum the year before.
The information was pulled together by the Federation of Small Businesses (FSB) through Freedom of Information requests.
Apart from the state of England's road, the data also revealed that councils have paid out nearly £2 billion in compensation.
Mike Cherry, the FSB national chairman, said:
"Potholes are a major concern for the nation's small businesses.
"Our members rely heavily on the local road network, with their staff, customers and trade deliveries, dependent on fast and efficient road networks.
"Poorly looked-after roads peppered with holes and cracks not only hamper their ability to do business, but lead to damaged vehicles, which are often vital assets to small firms working without large capital reserves.
"These figures show just how widespread the issue is and it's clear that the government and local authorities need to sit up and take notice.
"Measures like more funding for local authorities and improving the co-ordination between authorities and utility companies, will go some way in helping ease the burden of this ever-growing issue."
The Local Government Association (LGA) said cash-strapped councils needed better funding to keep potholes at bay.
Cllr Judith Blake, LGA transport spokeswoman, said:
"They can damage vehicles and cause accidents.
"Councils are on the side of the motorist and are doing all they can to keep our roads safe and resilient, fixing a pothole every 17 seconds.
"However, councils could do so much more if they are able to invest in looking after our country's roads.
"The upcoming spending round is an opportunity to provide councils with the funding they need to invest in our local roads."