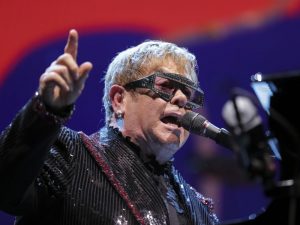 Singer Elton John is to be featured on a set of stamps to mark his 50 years in show business.
It's understood the Royal Mail will issue four stamps in October, each showing a different phase of Sir Elton's career.
Sir Elton, who was knighted in 1998, is said to be "overjoyed and honoured" by the stamps.
The friend added: "To Elton, this is the most tremendous honour. He is absolutely overjoyed.
"He has been planning his own ways to commemorate his 50 years of producing and performing music, but to be noticed and celebrated by the Royal Mail is so special for him.
"He has been honoured by the Queen before, but this is different, this is something so out of the ordinary."