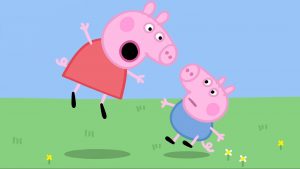 Entertainment One
Peppa Pig has been bought for £3.3 billion by toy makers Hasbro.
Entertainment One, the Canadian production company behind the world-wide success of Peppa, sold for an all-cash deal to the American company.
The deal brings together one of Britain's biggest media exports – the show is seen in 180 territories – and the world's principal owner of toy brands.
Hasbro, valued on Wall Street at $14.4 billion, is the name behind My Little Pony, Transformers, GI Joe, Play-doh and the board game Monopoly.
Allan Leighton, Entertainment One non-executive director said welcomed Hasbro's bid.
He said it "creates significant, immediate value for our shareholders as it recognizes the strength of our future-facing business model".
ITV tried to buy Peppa Pig three years ago for £1 billion but the offer was swiftly declined as "fundamentally undervalued".
However, it is the enormous international success of Peppa Pig that has attracted Hasbro.
The everyday adventures of Peppa, family and friends generate yearly sales of $1 billion.
Darren Throop, Entertainment One CEO, said:
"There's a strong cultural fit between our two companies.
"Along with our leadership team, I look forward to working with Hasbro on our joint growth and success for many years to come."