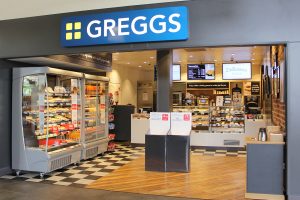 Greggs the bakers is defying a failing High Street and is to open its 2,000th shop.
As many food chains close businesses Greggs surges ahead.
Roger Whiteside, chief executive, said: "As shopping habits and work locations continue to evolve, our expansion plans are reflecting this.
"We are now opening drive-thru sites, industrial parks, travel hubs and service stations.
"So, it's no surprise that our 2000th shop opening reflects this evolution."
The eponymous John Gregg started the business more than 80 years ago after "getting on his bike".
He cycled everywhere to deliver fresh eggs and yeast to Newcastle families.
As demand grew he added bread, sandwich cakes, steak mince pies and hot cross buns to his list of morning goods.
The first shop was opened in 1952 in Gosforth High Street, Newcastle.
Although now nationwide, the 2,000th shop will open in South Shields – just a few miles away from the first.
Greggs produces weekly more than 25 million different food items and sells a staggering 1.5 million sausage rolls a week.
Mr Whiteside said: "The North East is where Greggs started its journey, so we're delighted to be opening our 2000th shop in the North East.
"Our shops have changed a lot over the past 80 years.
"We've upgraded our estate to offer a more contemporary food-on-the-go experience.
"But, we still remain true to our values today and are proud to serve over six million customers per week."