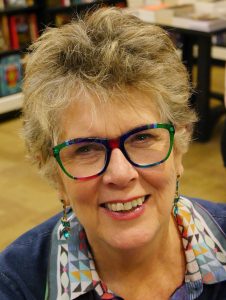 Prue Leith
Television cook Prue Leith has been called in by the Prime Minister to put an end to the misery of hospital food.
The "Bake Off" judge will advise on a "root and branch" review of how the NHS feeds its patients.
The decision comes after six people died from eating hospital food.
Boris Johnson insists patients are served "nutritional, tasty and fresh meals".
He wants to put an end to "junk food" and increase on site catering.
Some hospitals spend as little as £2 a day on a meal, and frozen meals are sometimes prepared more than 650 miles away.
Mr Johnson said: "Guaranteeing hospitals serve nutritional, tasty and fresh meals will not only aid patient recovery, but also fuel staff and visitors as they care for loved ones and the vulnerable.
"Our NHS has led the way since the day it was formed.
"This review will ensure it remains the standard-bearer for healthy choices."
Six patients have died this year after contracting listeria through sandwiches and salads.
The review will be chaired by Philip Shelley, a former head of the Hospital Caterers Association.
Ms Leith, 79, is an adviser.
She said: "Millions of pounds are wasted in hospitals with food ending up in the bin, unpalatable food being the main complaint.
"I'm delighted that at long last Downing Street and the Department of Health have decided to do something about it.
"A hospital meal should be a small highlight, a little pleasure and comfort, and it should help, not hinder, the patient's recovery."