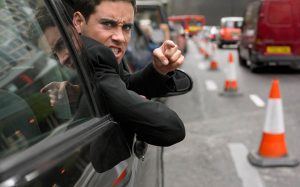 Up to 20 per cent of UK road users are threatened with physical violence each year through road rage.
In rare incidents some attacks have led to deaths.
A poll of 3,000 people revealed one in five had been the victim of angry drivers.
In a separate study, more than 20 per cent of drivers claim to have got out of their car to argue with another driver.
The biggest trigger for anger behind the wheel is dangerous overtaking – 28 per cent of motorists said they'd "engaged" with drivers after being cut up.
Tailgating, people using mobiles, and speeding were other key factors in drivers seeing red.
Neil Worth, GEM Motoring Assist safety officer said:
"Most of us will have some experience of being on the receiving end of someone else's aggression," said.
"Thankfully, violent and unprovoked attacks are rare, but it pays to be observant and if possible, to recognise signs of trouble at their earliest stages.
"We encourage drivers to leave plenty of time for their journeys, which means they can feel calm and in control at the wheel.
"Stress can lead to risk taking, and this in turn increases the likelihood of aggressive incidents.
"We also urge drivers to avoid becoming involved in situations they recognise as dangerous or risky.
"If you're worried about another driver who may be in danger, then stop and call the police."
GEM has identified how to reduce the risk of a driver being the target of someone else's aggression.
Keep calm and show restraint: every journey brings the risk of frustration and conflict, so be patient and avoid using your horn. Hand gestures should be avoided, too.
Avoid the desire to 'get even': don't attempt to educate or rebuke a driver who you believe is in the wrong.
Don't push into traffic queues: wait for a signal from a fellow motorist.
Say thank you, say sorry: if you make a mistake, offer an apology to defuse any anger.
Move away from trouble: if you feel threatened, lock the doors and drive to the nearest police station. Alternatively, move to a busy area, such as a petrol station. Contact the police and/or press the horn repeatedly to deter an attacker.