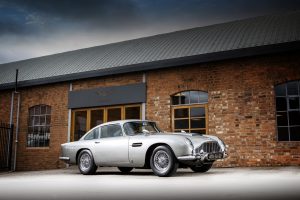 The world's most famous car – James Bond's Aston Martin DB5 – has been sold at auction for a record breaking £5.2 million.
The car, with its machine guns, tyre slashers, revolving number plates and passenger ejector seat, was one of four made by Aston Martin.
It was used in the Bond films Goldfinger and Thunderball.
Auctioneers Sotheby's estimated the "extremely rare and pristine" car to fetch up to £5 million.
It reached that sum within four minutes as six bidders competed for the 1965 DB5.
It was knocked down to a bidder in the auction room in California.
Barney Ruprecht, car specialist at RM Sotheby's, said:
"We are beyond thrilled with the fantastic result and proud to have set a new record for the most valuable DB5 sold at auction.
"Beyond this new auction record, the enormous amount of interest in the car and excitement surrounding it ahead of the auction solidifies its status as the 'most famous car in the world'."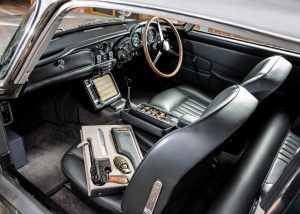 The DB5 was introduced to Bond films in 1964 when two were made for Goldfinger; one for stunt driving and chase sequences, the other for interior shots and close-ups.
Two more, including the one sold at auction, were commissioned from Aston Martin by Eon Productions, and shipped to America to promote Thunderball in 1965.
The gadget filled DB5s thrilled Bond fans around the world – in particular the passenger ejector seat.
The "extraordinary extras" – including Browning .30 machine guns hidden in the front bumper, and bullet proof screens – were designed by special effects maestro John Stears after he visited Aston Martin's Newport-Pagnell plant in late 1963.
There was a telephone with a direct line to MI6 and a hidden compartment for more weapons.
The success of Goldfinger was also a success for Aston Martin, which saw DB5 sales surge.