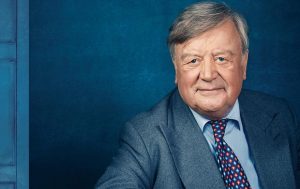 Father of the House Ken Clarke has said he's willing to become a caretaker Prime Minister to stop Britain leaving the EU without a deal.
The former Tory Chancellor said a government of national unity could be what's needed to solve the deadlock in Parliament.
He said the UK was facing a crisis like the 1930s recession and two world wars.
Some MPs want a vote of no confidence to oust Boris Johnson from Number 10.
But, if successful, they can't agree of who should replace him as PM.
Labour leader Jeremy Corbyn is prepared to trigger the vote but wants to install himself as Prime Minister.
Mr Clarke, talking to Radio 4's Today programme,  said: "If it was the only way in which the plain majority in the House of Commons that is opposed to a No Deal exit could find a way forward I wouldn't object to it, if that was in the judgment of people, the only way forward.
"A government of national unity is just one of the things that might be called for.
"It's not inconceivable – I mean we're in a similar situation to 1931 and rather wildly to the two world wars when the same thing happened.
"But there's an awful lot to be gone through.
Mr Clarke, who's been on holiday for two weeks, added: "I haven't been taking part in any talks with anybody for the last fortnight.
"I've been on the phone to one or two people in the last couple of days just to find out what the devil's going on."
However, his suggestion to step up to the plate was roundly dismissed by Nigel Evans, a member of the 1922 committee of Tory MPs.
He said: "We've filled the vacancy with Boris Johnson and so I really don't know what Ken is talking about.
"It does seem to be Westminster meets La La Land because it's not as if these ideas are half-baked, I really don't think they've been anywhere near an oven."