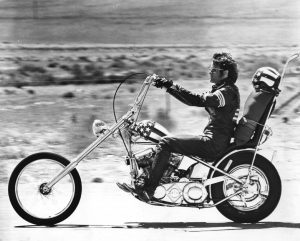 Easy Rider actor Peter Fonda has died. He was aged 79.
He wrote and produced the iconic 60s road movie that was a "touchstone for a generation" and "captured the national imagination".
The Oscar nominated 1969 film was directed by co-star Dennis Hopper.
Easy Rider also gave Jack Nicholson his first big break in pictures.
Peter was the younger brother of actress Jane Fonda and the son of Henry Fonda.
Jane said in a statement: "I am very sad. He was my sweet-hearted baby brother. The talker of the family.
"I have had beautiful alone time with him these last days.
"He went out laughing."
And, his family added: "It is with deep sorrow that we share the news that Peter Fonda has passed away peacefully on Friday morning, August 16 at 11.05am at his home in Los Angeles surrounded by family.
"The official cause of death was respiratory failure due to lung cancer.
"In one of the saddest moments of our lives, we are not able to find the appropriate words to express the pain in our hearts. As we grieve, we ask that you respect our privacy.
'And, while we mourn the loss of this sweet and gracious man, we also wish for all to celebrate his indomitable spirit and love of life. In honor of Peter, please raise a glass to freedom."
Peter was married to Margaret DeVogelaere.
He had two children, Bridget and Justin Fonda, both actors.
He'd been working on a 50th anniversary concert to recognize the anniversary screening of Easy Rider.
Canadian rock band Steppenwolf were to play the film's soundtrack song "Born to be Wild" – a song that brought them world-wide fame.
Easy Rider is listed by the United States National Film Registry for being "culturally, historically, or aesthetically significant".