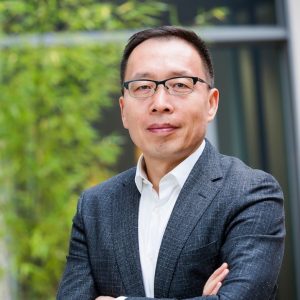 Victor Zhang
Tech titan Huawei is "confident" the UK government will resist US "politically motivated" pressure to drop the Chinese company from its 5G plans.
America has been pressing for Britain to stop Huawei supplying infrastructure for the future mobile network.
Washington has warned signing a post Brexit trade deal could hinge on the UK's decision to work with Huawei.
Victor Zhang, Huawei's president of global affairs, said a "no deal" with Britain would not affect the company's investment or jobs in the UK.
He added: "Whatever happens on the political side will not impact Huawei's decision in the UK.
"We will continue our investment in the UK because the UK has the advantage of talent and R&D environment.
"We had very good communications with the previous government [Mrs Theresa May].
"We believe we will have very good conversations with the new government.
"I believe that the UK government will make the right decision based on the facts and evidence."
America believes Huawei poses a threat to international security because of the company's alleged links to the Chinese government.
However, the US has yet to provide any evidence to back up the allegations
Mr Zhang said: "Huawei is not a security issue, actually it is definitely a trade war issue between China and the US."
Under Mrs May the government agreed to let Huawei work on non-core areas of installing the 5G network.
Now, with Boris Johnson as Prime Minister, Washington has increased the pressure to drop Huawei.
John Bolton, the US national security suggested the UK should look again at Huawei "from square one".