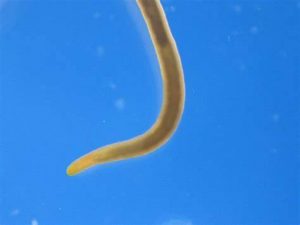 A worm that carries a deadly toxin has been found living off Britain's coast.
The ribbon worm is native to the north-west Pacific but has travelled to European waters.
Scientists at the University of Southampton found the Cephalothrix simula in muddy waters in the south-west.
The worm carries a deadly level of neurotoxin Tetrodotoxin.
Luke Holman, a PhD student at the university said: "We are enormously excited about the potential for environment DNA in the detection of invasive species.
"This initial work gives us confidence that the technique could be invaluable both for catching invasions early on and also for monitoring the success of eradication efforts."
A dose of as little as two milligrams of Tetrodotoxin can be fatal to humans, inducing heart failure or paralysing nerves that trigger muscles to control breathing.