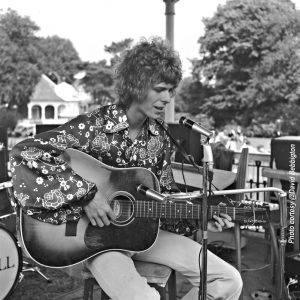 A bandstand where David Bowie used to play has been made a listed building.
It's thought the star may have written the lyrics to Life on Mars while sitting on its steps.
The Edwardian cast iron stand was built in 1905 in the Croydon Recreation Ground, in South London.
Bowie often played music on the stand, sometimes to an audience of just a few hundred fans and passers-by.
He lived in nearby Beckenham in the home of landlady Mary Finnigan.
Historic England chief executive Duncan Wilson said: "Walking past this typical yet characterful bandstand, you probably wouldn't expect it was once the stage for a young man who would become one of the most iconic musicians of the 20th century.
"It is a rare survival from a historic iron foundry in its own right, but its significance as a site that inspired David Bowie shows us how powerful our historic places can be and how important it is that we protect them so they will continue to inspire people for years to come."
The bandstand, owned by Bromley Council, has been Grade II listed by the Department for Digital Culture, Media and Sport.
Heritage minister Rebecca Pow said: "David Bowie is a cultural icon and 50 years on from his performance at the 'Bowie Bandstand' in Beckenham it is right that we remember his influence on music and culture in this way.
"Our country's music industry is a huge success story and artists like David Bowie will always play an important role in how the rest of the world views the UK, helping us to attract millions of visitors each year to experience and enjoy our rich history and culture."