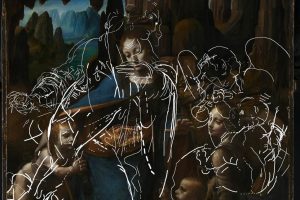 The Virgin Of The Rocks
 Leonardo da Vinci used his fingers to create one of his greatest works of art.
 To fashion the right texture of paint he patted it down with his hands to make it even.
 Scientists investigating the Renaissance painter's "The Virgin Of The Rocks" have discovered finger and palm prints on the canvas.
 Experts have also found drawings under the finished picture which indicate Leonardo made substantial changes from his original work.
 In particular, the X-rays revealed his initial design for the angel and infant Christ are markedly different to the final picture.
 On expert said: "Both figures are positioned higher up in the drawing, while the angel, facing out, is looking down on the infant Christ with what appears to be a much tighter embrace.
"Why Leonardo abandoned this first composition still remains a mystery.
"Handprints resulting from patting down the priming on the panel to create an even layer of more or less uniform thickness can also be seen, probably the work of an assistant – but perhaps even by Leonardo himself."
The forensic examination of the Italian's works has been done ahead of a four-room exhibition at London's National Gallery.
Gallery Director Dr Gabriele Finaldi said:
"This exhibition represents a fascinating new venture for the National Gallery, combining the most recent technical research on The Virgin Of The Rocks with an immersive, enveloping experience, giving visitors the opportunity to explore Leonardo da Vinci's creative process in making this masterpiece."
And, managing director Richard Slaney said it would let visitors "explore the fascinating layers of this iconic masterwork in an immersive way". 
He added: "We work at the nexus between technology and art … applying the latest cutting-edge technologies in the pursuit of incredible storytelling."
Leonardo: Experience A Masterpiece opens on November 9th  2019 and runs until January 12th  2020.