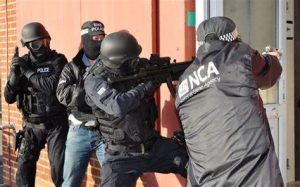 National Crime Agency training
Forty-four people have been arrested as part of pan European police sting targeting modern slavery and human trafficking.
And, 35 potential victims have been identified co-ordinated by the UK's National Crime Agency (NCA).
The week-long operations involved 18 different police forces.
More than 200 business and residential homes were visited by officers.
A multi-agency also carried out checks at Stanstead Airport.
In-coming flights from "high risk" countries were monitored, as were groups travelling with minors.
Nineteen suspects were arrested in the UK for offences relating to sexual exploitation, including keeping a brothel and controlling prostitution for gain.
A further four people were held for human trafficking.
Another 21 arrests were made for other offences including possessing indecent images and immigration offences.
Of the 35 potential victims identified and safeguarded 18 were minors and were most often subject to labour and criminal exploitation, as well as sexual exploitation and domestic servitude.
Information gathered during the operation has led to the launch of 20 new police investigations.
Overall, Europol co-ordinated activity in 16 EU states, as well as Iceland and Switzerland, saw more than 200 potential victims identified and safeguarded.
More than 127,000 individuals, 63,800 vehicles and 1,100 locations were checked, including private properties, commercial establishments, hotels, buses and train stations, ferry ports, airports and border crossings.
Head of the NCA's Modern Slavery and Human Trafficking Unit, Adam Thompson, said:
"This co-ordinated week of activity aimed to disrupt and build intelligence on the criminal networks involved in modern slavery and human trafficking.
"In the UK this led to dozens of potential victims being safeguarded. These are often vulnerable and may not recognise themselves as victims until it is too late.
"Working with our partners across law enforcement here and abroad we are determined to do all we can to fight modern slavery and tackle the criminal groups involved. But we can't do that on our own, and information from the public is vital to us."