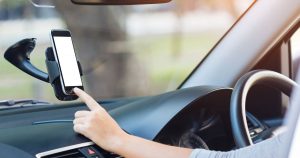 MPs believe there needs to be a ban on UK motorists using their phones hands-free.
They say it's just as dangerous as drivers holding mobiles in their hands while at the wheel.
A Commons Transport Committee report says there is still "the same risks of collision".
The committee agrees there would be difficulty in enforcing a hands-free ban but insisted "this does not mean we should not do it".
It's asked for the government to explore the possibilities of changing the law.
In 2017 43 people died and 135 were seriously injured in road accidents involving mobile phone usage.
Those figures have risen steadily, but prosecutions have dropped by more than two thirds.
Labour MP Lilian Greenwood, who chairs the committee, said: "Despite the real risk of catastrophic consequences for themselves, their passengers and other road users, far too many drivers continue to break the law by using hand-held mobile phones.
"If mobile phone use while driving is to become as socially unacceptable as drink-driving, much more effort needs to go into educating drivers about the risks and consequences of using a phone behind the wheel.
"Offenders also need to know there is a credible risk of being caught, and that there are serious consequences for being caught.
"There is also a misleading impression that hands-free use is safe. The reality is that any use of a phone distracts from a driver's ability to pay full attention and the Government should consider extending the ban to reflect this."
However, the RAC believes the government should strictly enforce the current laws in place for the last 16 years.
It says those laws are flouted daily by tens of thousands of drivers.
Nicholas Lyes, head of RAC policy, said: "The falling number of roads police officers has clearly not helped the enforcement situation.
"We feel the time has come to look at new technology capable of photographing offenders using their hand-held phones while driving.
"If hands-free use were to be banned then it could arguably be even harder to catch drivers in the act than it is now.
"Drivers should also be aware that, even if you are using a hands-free device, if you are not in proper control of the vehicle then the police can take enforcement action."
A Department for Transport spokeswoman said:
"While mobile phones are a vital part of modern life and business, drivers must always use them safely and responsibly.
"Being distracted by a mobile phone while driving is dangerous and puts people's lives at risk. The law is clear that anyone driving dangerously is committing a criminal offence."