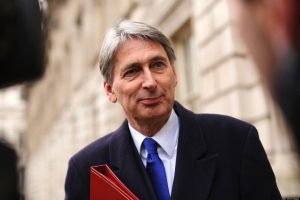 Theresa May looks set not to award anything to her chancellor Philip Hammond in her resignation honours list.
The former Prime Minister is adding the finishing touches to her list, and conspicuous by its absence is Mr Hammond's name.
As one of her most senior and longest serving ministers Mr Hammond would certainly be eligible for an honour.
He also served as her Foreign Secretary and Defence Secretary.
But the once close relationship soured after the referendum vote to leave the EU in 2016.
Mr Hammond proved "obdurate" to Mr May's repeated attempts to get her various EU withdrawal bills through Parliament.
One friend of the PM said: "Nobody can read Theresa's mind, but I'd be astonished if she gave Philip anything.
"He blocked and frustrated her for three years. Even at the very end he was still doing everything he could to be obstructive."