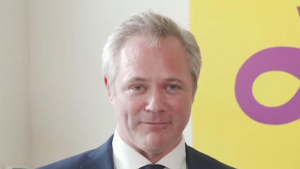 Richard Braine is the new leader of UKIP.
He replaces Gerard Batten who stood down after the recent European elections.
Mr Braine took more than half the vote in the leadership contest.
He is the sixth UKIP leader in the last three years.
The pro-Brexit party has suffered at the polls since its charismatic leader Nigel Farage quit in 2016.
In the last European election, the right-wing party lost all its MEPs.
Mr Braine said: "'We have got a great future and we are coming back. I am very excited and looking forward to leadership of this party, bringing the members together and delivering better results."