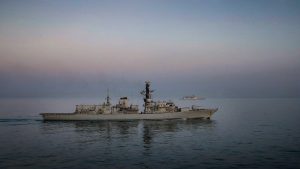 The Royal Navy has just 12 ships to police UK territorial waters if a fish war breaks out after a No Deal Brexit.
The details were revealed in an email mistakenly sent out by the Department for the Environment, Food and Rural Affairs (Defra).
It was in response to a question about how effectively Britain will handle the growing tension between rival UK and EU fishermen.
The email reads: "We expect the journalist to take a largely critical tone for his piece, and to paint the picture of the UK not being in a strong position to sufficiently enforce our waters if we do leave the EU without a deal.
"While our public position on this wider issue is already clear, in that post-Brexit we will be an independent coastal state with control of our waters, both policy and the Ministry of Defence have indicated we are not on an overly strong footing.
"At this stage, there is a lot of uncertainty about the sufficiency of enforcement in a No Deal because we have 12 vessels that need to monitor a space three times the size of the surface area of the UK.
"While the number of vessels is an MoD area, the knock-on impact of this could have reputational damage for Defra and our ability to protect fisheries so we need to provide a strong line to rebut this."
France's agriculture minister Didier Guillaume has warned Britain it must not stop French boats entering UK waters if there's No Deal.
But, UK Legal experts fear there is a simmering "toxic mix" of past grievances, perceived unfair treatment, and a loss of livelihood fuelling confrontation.
Only last year 35 French boats and five British vessels clashed at sea over fishing for scallops.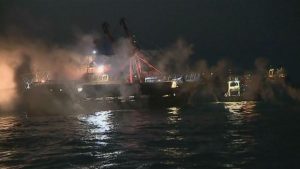 Boats were driven into each other; rocket flares were fired, and petrol bombs and metal objects were thrown.
It's feared a No Deal would bring about a lack of legal clarity of who can fish where, causing a repeat of the 2018 violence.
Many EU fishermen depend on access to UK waters to make a living.
Professor Richard Barnes of the University of Hull said:
"Together with inflammatory newspaper headlines, broken political promises and broken livelihoods, we will have all the ingredients for violent confrontations at sea.
"This is likely to be part of the reality of a no-deal Brexit."
"When fishermen from either the UK or continental Europe feel that they have no other option, they have, in the past, shown that they are willing to take matters into their own hands if their rights or interests are threatened.
"Given that the UK lacks the practical capacity to fully enforce fishing law in all its waters, this is a significant risk.
"History shows us that fishing disputes can quickly escalate. Any close quarters situation between fishing boats, let alone deliberate ramming or physical violence, can result in injury or even loss of life."
And Jeremy Percy, director of the New Under Ten Fishermen's Association – for boats under 10 metres long – believes interpreting international law is a catalyst for trouble at sea.
He said EU boats would want to continue to fish in rich UK waters but won't be allowed to.
Mr Percy said: "Clashes at sea would be a highly undesirable and very dangerous development.
"We should not forget that there was a serious clash in the English Channel over scallops less than a year ago – and clashes of that sort in British waters can therefore not be discounted in the event of a no-deal Brexit."