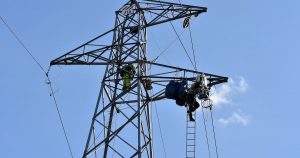 More than a million people lost power yesterday after two power stations "disconnected".
Large areas of England and Wales were hit hardest by the "incredibly rare event".
Homes were plunged into darkness; railway stations were closed – leaving passengers stranded for hours – and road traffic lights stopped working.
At first it was feared the UK's power network had been sabotaged by a cyber-attack.
Regulator Ofgem has demanded an "urgent detailed report" into what went wrong.
The outage started about tea-time after a gas-fired power station in Bedfordshire failed.
Two minutes later the giant Hornsea offshore wind farm disconnected from the grid.
The National Grid's Director of Operations Duncan Burt said the loss of two generators with minutes was more than the grid was prepared for.
He said: "We think the safety protection systems across the industry on generators and on the network worked well to secure and keep the grid safe, to make sure that we preserved power to the vast proportion of the country."
Mr Burt said they were confident there was no "malicious intent" or cyber-attack.
 And, Julian Leslie, Head of National Control at the National Grid Electricity System Operator said: "We had an unplanned near simultaneous event on our network.
"This event was the loss of two generators which connect to the national grid network in order to export their power.
"As a result of this, this rare event, the system needs to protect itself.
"What was happening was as the frequency was falling, the system could see this and unfortunately the way the system protects itself is to lose some demand. You would have seen this in a temporary and short power cut."
Both failed generators were up and running again within 15inutes, but the chaos for commuters last for hours.