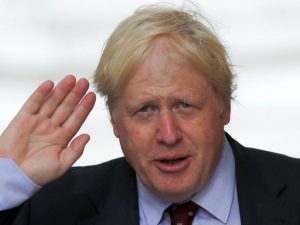 A Labour leader has apologised to the UK's Holocaust centre after likening Prime Minister Boris Johnson to Hitler.
Councillor Paul Peacock posted on Facebook pictures of both men with the comment "History eh?".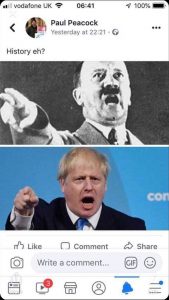 The "inappropriate" remark was seen by staff at the National Holocaust Centre and Museum at Laxton, near Newark, Nottinghamshire, and demanded an apology.
Mr Peacock, Labour leader at Newark and Sherwood District Council, has since taken down the reference.
He later had a meeting with Holocaust chief executive Phil Lyons.
The councillor was shown around the centre and told of its history and the Holocaust.

Councillor Paul Peacock
Mr Lyons said: "I have had a productive meeting with Paul Peacock which lasted nearly two hours, to discuss the Facebook post that compared Boris Johnson with Adolf Hitler.
"The Labour leader has completely acknowledged the inappropriateness of posting this and the negative connotations that came as a result."
He said Mr Peacock had expressed determination to show positive leadership in the future and contribute to eliminating hate speech.
Mr Peacock said he'd apologised to Mr Lyons.
He added: "Phil has accepted my apology and is grateful that I contacted him to learn about the positive work that the National Holocaust Centre does."
The centre was established in 1995 in the grounds of a former farmhouse.
It is the only place of its kind in the UK dedicated to Holocaust remembrance and education.
Prince Harry attended the centre to learn about the Holocaust after he'd been photographed wearing a Nazi uniform.