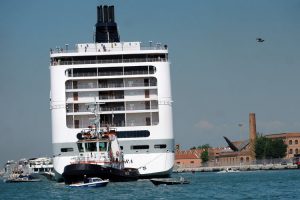 Cruise ships have been banned from docking in Venice after years of complaints by residents.
The Italian government says it will re-route the liners – some as large as office blocks – away from the already crumbling city.
The long-awaited decision comes only weeks after a cruise ship ploughed into a tourist boat.
And three months ago, the MSC Opera crashed into the quayside injuring five passengers on a smaller boat.
Residents have argued the huge ships dwarf the city's majestic skyline as well as damage its wooden foundations.
During the peak summer months, the ships can drop off 30,000 sightseers a day.
Italy's minister of transport Danilo Toninelli said the cruise ships would, over time, be guided away from current routes.
And there is a plan for a third of them to berth in lagoons some three miles from Venice.
Also, a new dock will be built.